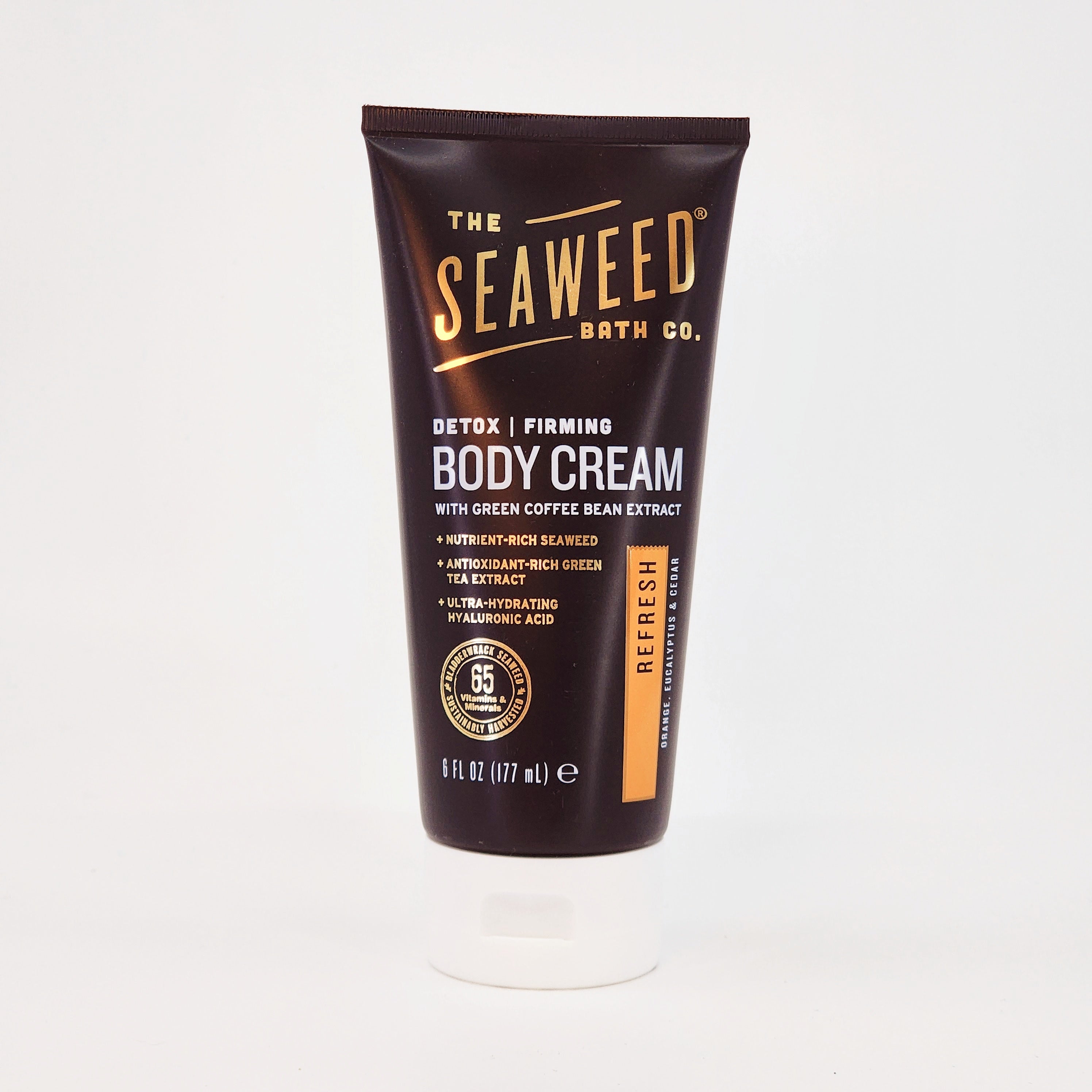 Detox Refresh Firming Body Cream
The Detox Firming Body Cream deeply moisturizes and detoxifies for smoother, firmer-looking skin.
Description
Ingredients
Suggested Use
Experience a luxurious spa-like experience with our Detox Refresh Firming Body Cream. Formulated with organic, sustainably-harvested bladderwrack seaweed and over 65 vitamins and minerals, this cream naturally detoxifies and firms the skin, restoring it to its natural, youthful glow. Pamper yourself with the ultimate luxury today!
Features: 

Organic, sustainably-harvested bladderwrack seaweed with 65+ vitamins and minerals naturally detoxifies and promotes skin elasticity.
Antioxidant-rich green coffee bean extract helps to detoxify and protect the skin against damaging free radicals.
Detoxifying green tea extract, rich in potent antioxidants, protects and moisturizes.
Hyaluronic acid locks in moisture while strengthening the skin's natural barrier.
Leaping Bunny Certified, Vegan, Cruelty Free, Gluten Free, Paraben Free.
Use daily for optimal benefits.
Best for those who want an emollient body cream that helps to improve skin appearance and feel.
6.5 oz
Aqua (Water) with Fucus Vesiculosus (Bladderwrack Seaweed) and Chlorella Vulgaris Extracts, Caprylic/Capric Triglyceride, Carthamus Tinctorius (Safflower) Seed Oil, Glycerin, Stearic Acid, Glyceryl Stearate, Stearyl Alcohol, Polysorbate 80, Theobroma Cacao (Cocoa) Seed Butter*, Aleurites Moluccana (Kukui) Seed Oil, Tocopherol, Butyrospermum Parkii (Shea Butter)*, Panthenol (Vitamin B-5), Coffea Arabica Extract, Camellia Sinensis (Green Tea) Leaf Extract, Helianthus Annuus (Sunflower) Seed Oil, Rosmarinus Officinalis (Rosemary) Leaf Extract, Triethyl Citrate, Citrus Aurantium Dulcis (Orange) Oil, Linalyl Acetate, Linalool, Juniperus Virginiana (Cedarwood) Oil, Eugenia Caryophyllus (Clove) Oil, Gamma Decalactone, Carbomer, Sodium Hyaluronate, Sodium Phytate, Aldehyde C-18, Ionone Beta, Hexenol Cis-3, Hexenyl Acetate Cis-3, Melon Aldehyde, Citronellol, Phenyl Ethyl Acetate, Eucalyptus Globulous (Eucalyptus) Oil, Potassium Sorbate, Dehydroacetic Acid, Benzyl Alcohol, Allantoin, Tromethamine, Caffeine. *Certified organic
Use daily or as needed to replenish skin's smoother, firmer look.
Detox Refresh Firming Body Cream