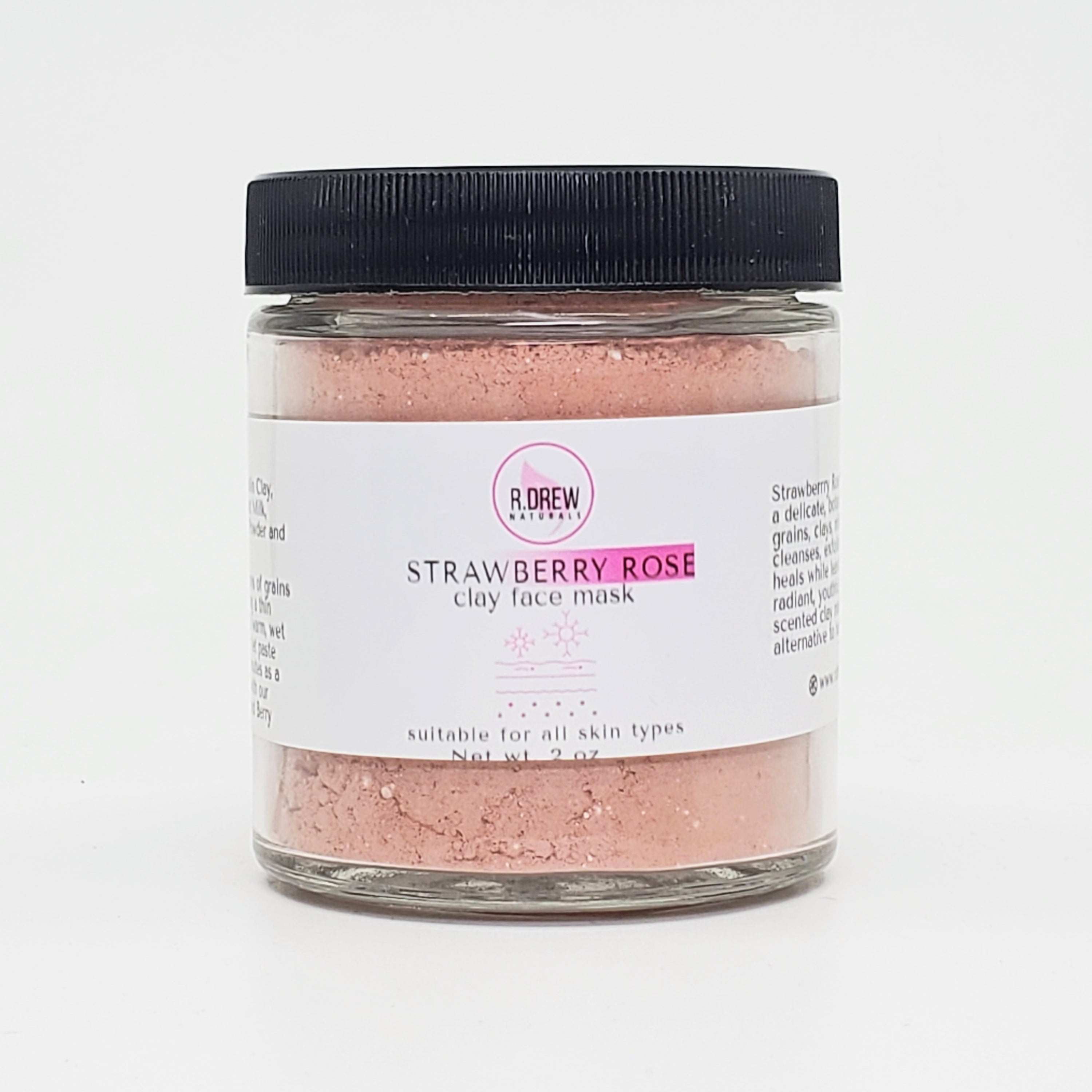 Strawberry Rose Clay Cleansing Grains & Facial Mask
The Strawberry Rose Cleansing Grains & Facial Mask is a delicate blend of natural grains, clays, milks and powders that cleanses, exfoliates, detoxifies and heals while leaving you with a radiant, youthful glow.
Description
Ingredients
Suggested Use
The Strawberry Rose Clay Cleansing Grains & Facial Mask can help to detoxify and cleanse the skin while providing it with vital nutrients. It can help to remove dead skin cells, which can leave the complexion looking dull help to tighten pores and reduce inflammation. 
When used on a regular basis, these ingredients can help to improve the overall appearance of the skin. The nutrient rich ingredients
Rose Kaolin Clay, Kaolin Clay help to detoxify, cleanse & exfoliate the skin and can help to absorb excess oil and sebum on the skin, keeping the complexion looking matte and shine-free.
Coconut milk is rich in vitamins, minerals and antioxidants, which can help to nourish the skin. It is also an excellent natural moisturizer.
Colloidal oatmeal helps to soothe irritated skin and provides it with essential nutrients.
Honey powder is a natural antibacterial agent that can help to keep the skin clean and free from infection.
Strawberry extract is rich in vitamin C, which is essential for collagen production. It can also help to brighten the skin.
Personalized for your skin type by give the mask powder a boost with aloe, avocado, yogurt, floral water or simply mix with water. Whichever liquid your choose, your skin will thank you. 
2 oz
Rose Kaolin Clay, Kaolin Clay, Strawberry Powder, Coconut Milk, Colloidal Oatmeal, Honey Powder and Strawberry Extract
Mix 1-2 teaspoons of mask with liquid of choice making a thin paste. Gently massage into warm, wet skin. Rinse immediately or let paste remain on skin up to 10 minutes as a facial mask.

Can be used twice a week.
Strawberry Rose Clay Cleansing Grains & Facial Mask