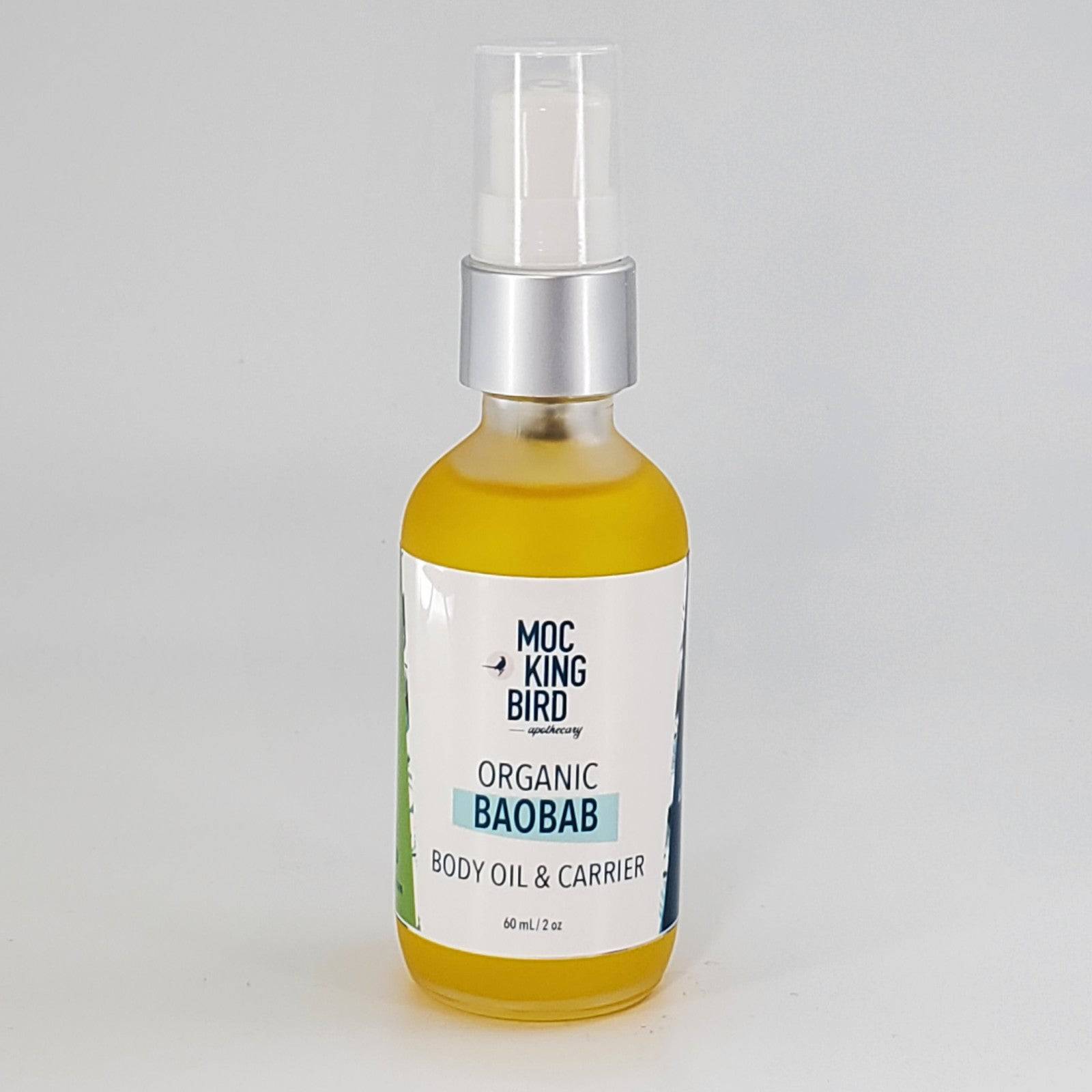 Our Organic Baobab Oil is wildcrafted and comes from the amazing Baobab fruit in Africa, rich in nutrients making it a superfood and exotic skincare ingredients. Baobab oil's strong anti-inflammatory properties can help hydrate and treat inflammatory skin conditions like eczema, psoriasis, and rosacea by reducing redness and eliminate the incessant itch that can occur with these conditions.
Description
Suggested Use
Baobab Oil:

contains six times more vitamin C than the common orange
beats spinach in the content of iron
holds more antioxidant benefits than blueberries
contains

Calcium
Potassium
8 essential amino acids
All three omega fatty acids, (omega 3, 6 & 9)
Other rare fatty acids
Other vitamins (A, D, E & K)  
For Skin:
Does not leave skin with a greasy residue, easy to use as daily moisturizer
Absorbs well, sinks deep to nourish skin cells to promote gorgeous healthy skin
Has a silky, smooth texture
Heals and nourishes damaged skin
Natural cleanser
Can eliminate unsightly under-eye bags caused by tiredness, stress and genetics
Helps moisturize around the eyes to combat dryness
Effective for moisturizing and soothing chapped lips
Fighting signs of aging due to high vitamin C
helps to stimulate collagen production, preserve skin elasticity
Promotes the restoration of mature skin
Prevent stretch marks and reduce their appearance when used liberally on the abdomen and breasts during pregnancy
2 oz 
As part of your health and beauty ritual, moisturize with baobab oil from head to toe.

For Skin:
Apply baobab oil to lips, hands, legs, feet—anywhere that needs some extra nourishment. Gently massage the oil into your skin.

For Hair:
Gently work several drops of baobab oil into your hair. Depending on your hair type, baobab oil can be used to protect hair during the day or as an overnight nourishing hair mask.