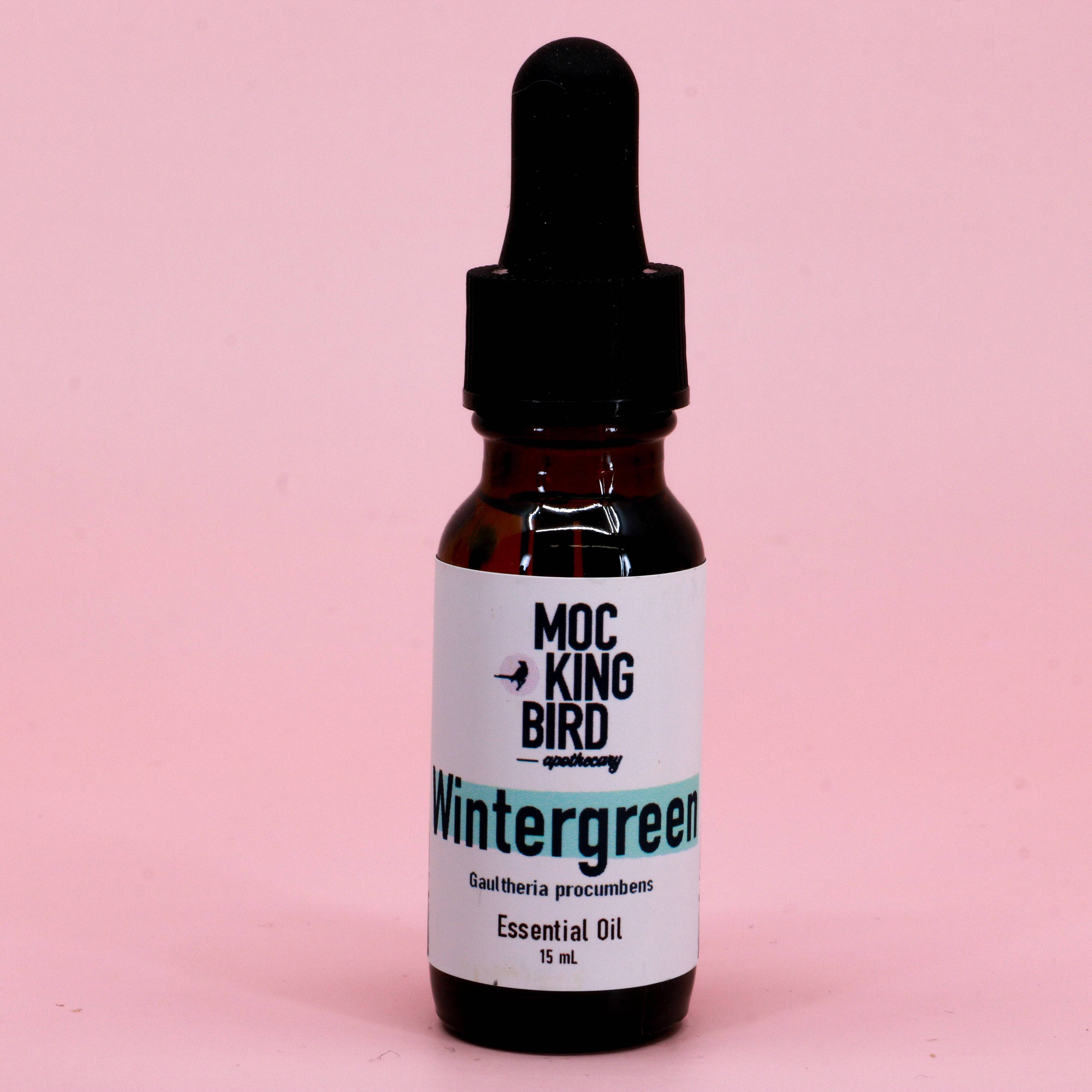 Wintergreen Essential Oil (Gaultheria procumbens)
Wintergreen essential oil is best known for its ability to reduce pain and inflammation, however it must be used sparingly and with extreme caution due to the its content of 96-99% methyl salicylate, an ester that can be toxic when not used with great care.
Description
Ingredients
Suggested Use
Wintergreen Essential Oil (Gaultheria procumbens) is an ideal choice for anyone looking to increase circulation, reduce pain and inflammation, and enhance digestion. It contains salicylic acid and methyl salicylate, which studies have proven effective for these particular benefits.
Salicylates are known to be pain relievers and blood thinners; the chemical name of Aspirin is acetylsalicylic acid, a synthetic derivative of salicylic acid. Though both aspirin and wintergreen come from salicylates, wintergreen is much stronger/potent.
The methyl salicylate in wintergreen essential oil directly or indirectly affects most organ systems. The potential toxic effects are :

the central nervous system with tinnitus, hearing loss, tremors, and seizures
the cardiovascular system with rapid heart rate and hypotension
the respiratory system with rapid respirations
the liver with hepatitis
the GI tract with nausea, vomiting, and abdominal pain
GC/MS Report available upon request.

Mockingbird Apothecary & General Store does not recommend ingestion of essential oils. These statements have not been evaluated by the Food and Drug Administration. Mockingbird Apothecary products are not intended to diagnose, treat, cure, or prevent any disease.
This essential oil can be used in a diffuser or diluted with a carrier oil and used topically. It is important to consult a qualified healthcare practitioner before using any essential oils, especially if you are pregnant or nursing.

When diffusing this essential oil blend, start with 4-6 and increase as needed.

To use this essential oil blend topically, dilute with a carrier oil such as jojoba oil or coconut oil at a ratio of 2-3 drops of essential oil per 1 teaspoon of carrier oil. Apply to the desired area and massage in.

If you are using this essential oil blend on children, be sure to use a very low dilution ratio. A general rule of thumb is 1 drop of essential oil per 4 ounces (120 ml) of carrier oil.

As with any essential oil, it is important to do a patch test before using topically. Place a small amount of the diluted essential oil blend on the inside of your elbow and wait 24 hours to see if there is any irritation.

If you are pregnant or nursing, be sure to consult a qualified healthcare practitioner before using essential oils.

Essential oils are potent plant extracts and should be used with caution. Store in a cool, dark place away from children and pets.

Do not take essential oils internally unless you are working with a qualified healthcare practitioner.
Wintergreen Essential Oil (Gaultheria procumbens)