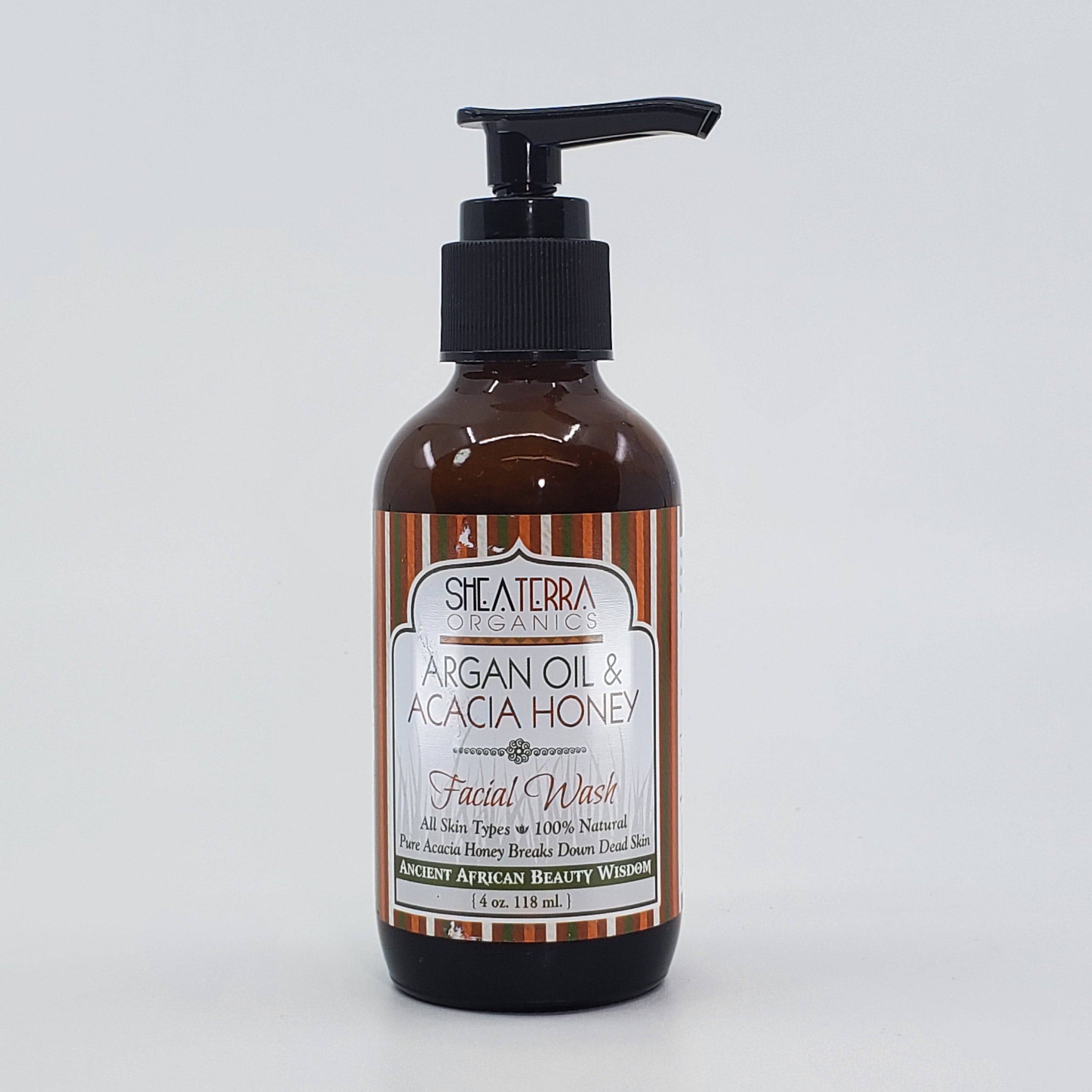 Argan Oil & Acacia Honey Facial Wash
The Argan Oil and Acacia Honey Facial Wash is a nourishing combination of pure ingredients that are an apitherapy treat to help break down dead skin cells and provide the hydration skin craves at the same time while also helping to gently remove grime and dead skin without stripping nutrients.
Description
Ingredients
Suggested Use
The Argan Oil and Acacia Honey Facial Wash features:
Nutritive Moroccan Argan Oil, high in vitamins A, E, and essential fatty acids that can help heal skin while helping to slow skin aging.

Kenyan Acacia Honey, harvested from wild mango and acacia trees, far from human pollutants.

Combined with a base of Shea Nilotica, virgin coconut cream oil, and organic virgin olive oil, this base for this cleanser is a nourishing skin treat.
Every time you use it, Argan Oil & Acacia Honey Facial Wash will detoxify, purify, soften, hydrate, and get rid of all bacteria on the skin. If you've been struggling with blemishes, this product will greatly improve their appearance.

Benefits

Reduces the appearance of blemishes
Reverse the effects of aging
Has anti-bacterial properties
Detoxifies, purifies, softens, and hydrates the skin
Helps to get rid of dead skin cells
Ideal for use on your skin and your hair
4 oz.
Contains only: Water, pure, wild harvested African honey, certified organic olive oil (olea europaea), certified organic shea nilotica, certified organic coconut oil, argan oil, potassium hydroxide, citric acid
Usage: Avoid contact with eyes.

As a daily cleanser: Apply to face. Massage into skin in circular motions. Wash off with warm water.

As a mask: Apply layer onto face. Set 5-10 minutes. Wash off with warm water in circular motions.
Argan Oil & Acacia Honey Facial Wash