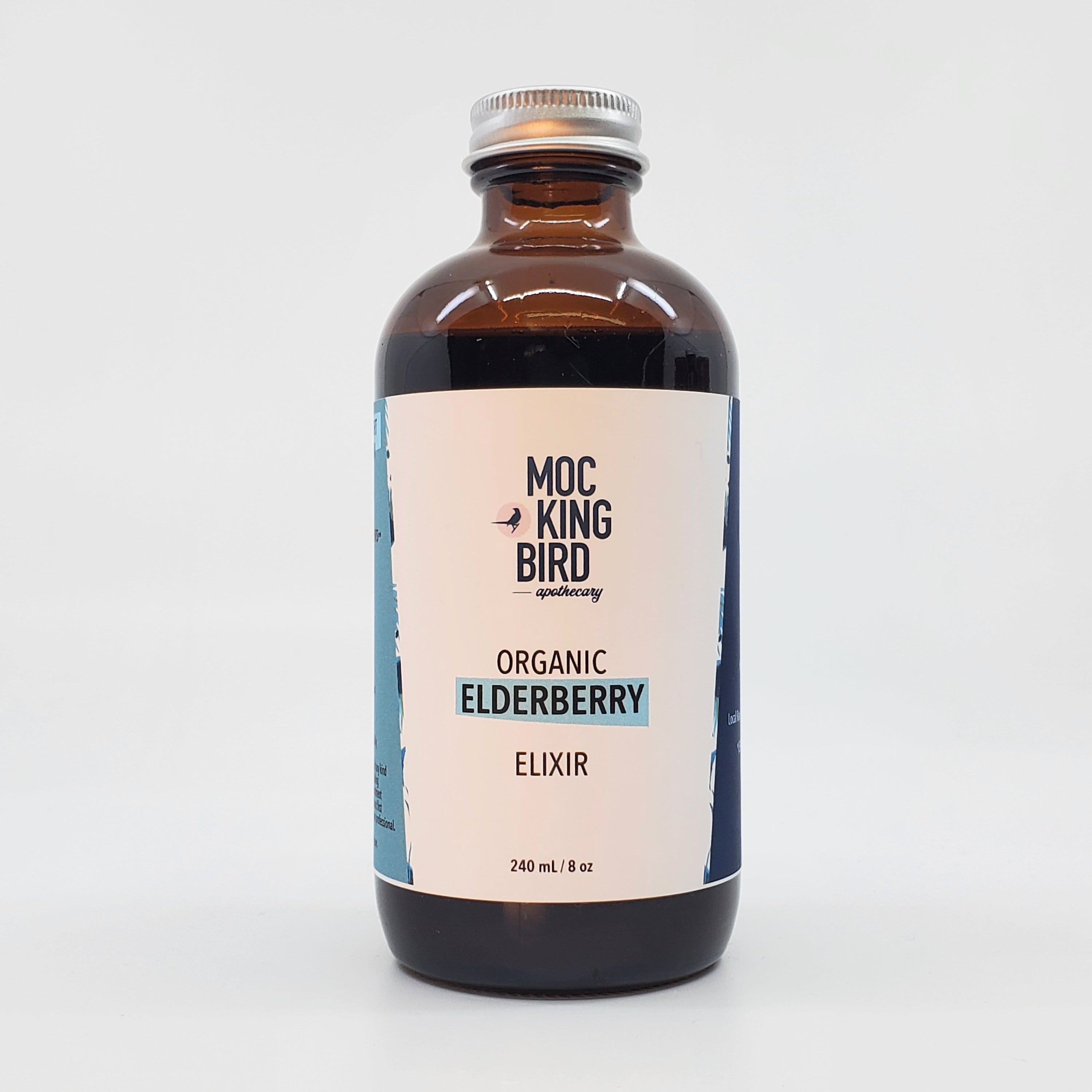 Organic Elderberry Elixir
Our Organic Elderberry Elixir is packed with a combination of healing fruits, herbs and spices that may help to boost and support the immune system.
Description
Ingredients
Suggested Use
Here are just some of the benefits of the hard-working & powerful ingredients in our Organic Elderberry Elixir:
Elderberries: to boost immune system, reduce flu symptoms,lower cholesterol and risk of heart disease
Echinacea Root: to help boost the immune system and help the body fight infections

.

Cinnamon Bark: antioxidant and anti-inflammatory properties
Ginger Root: anti-bacterial and anti-inflammatory properties
Bilberries: high in vitamin C and antioxidants 
Rosehips: high in vitamin A, C & E and antioxidants

Hibiscus Flower: high in antioxidants and fights inflammation

Licorice Root: high in anti-microbial, anti-inflammatory and antioxidant properties
8 oz amber glass bottle.
Elderberries*, Echinacea Root*, Cinnamon Bark*, Ginger Root*, Bilberries*, Rosehips*, Hibiscus Flowers*, Licorice Root*, and Local Raw Unfiltered Honey.

*Certified Organic

**Do not use herbal products of any kind if you are nursing, pregnant, taking medications or undergoing treatment for any medical condition without first consulting your healthcare professional.
-Adults: 1 Tablespoon daily.
-Children 2 & up: 1/2 to 1 teaspoon daily.
-Double up and every 4-6 hours at onset of symptoms until gone.

Keep refrigerated to avoid fermentation.
Organic Elderberry Elixir
Yummylicious
This product is recommended for general wellness, anti-inflammatory use, and a boost to immune and respiratory health. It also is used as an antioxidant. I love the taste it doesn't taste nasty like most other syrups and tinctures. It's actually delicious!!
Better yet, it works!!