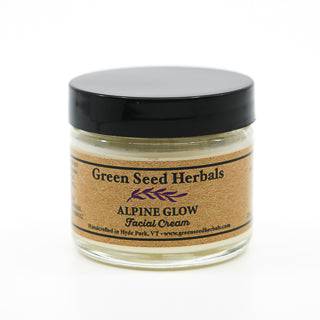 Deep Moisture Neroli & Herbs Face Cream
The "Alpine Glow" Deep Moisture Neroli Oil & Herbs Face Cream is packed with antioxidants and vitamins that help to protect the skin from damage, nurtures and heals the skin, and leaves the skin feeling soft, supple, and radiant.
Description
Ingredients
Suggested Use
The "Alpine Glow" Deep Moisture Neroli & Herbs Face Cream is a combination of sweet almond oil, jojoba oil, shea butter, neroli hydrosol, aloe vera gel, and grapefruit seed extract that altogether makes this face cream an excellent choice for those with dry, sensitive, or mature skin.
Non-comedogenic, meaning it won't clog pores, and is suitable for all skin types.
Beeswax in the face cream helps to seal in moisture, while the vitamin E provides additional protection against free radicals.
Neroli essential oil gives the face cream a beautiful, natural scent that is both calming and uplifting.
Handmade in small batches to ensure quality and freshness.
2 oz
Sweet Almond Oil, Jojoba Oil, Shea Butter, Neroli Hydrosol, Aloe Vera Gel, Neroli Essential Oil, Grapefruit Seed Extract, Vitamin E, and Beeswax.


Great for dry, sensitive and/or maturing skin types. It may be used as a daytime moisturizer or night cream.
Deep Moisture Neroli & Herbs Face Cream
Deeply Moisturizing + Uplifting Scent
I once purchased this when I lived in Vermont and I was so excited to find it online here with great shipping rates because I now live in New Mexico and am in deep need of a powerful and substantial skin moisturizer due to the dry desert environment. My skin is so deeply moisturized with this product and it does not clog my pores. Plus, it smells absolutely delightful (neroli is just pure magic and uplifts my soul). I feel like I am feeding my skin true, natural nourishment with every application...and it makes me feel connected to Vermont because it is made in Vermont with love. Thank you for offering this great product!