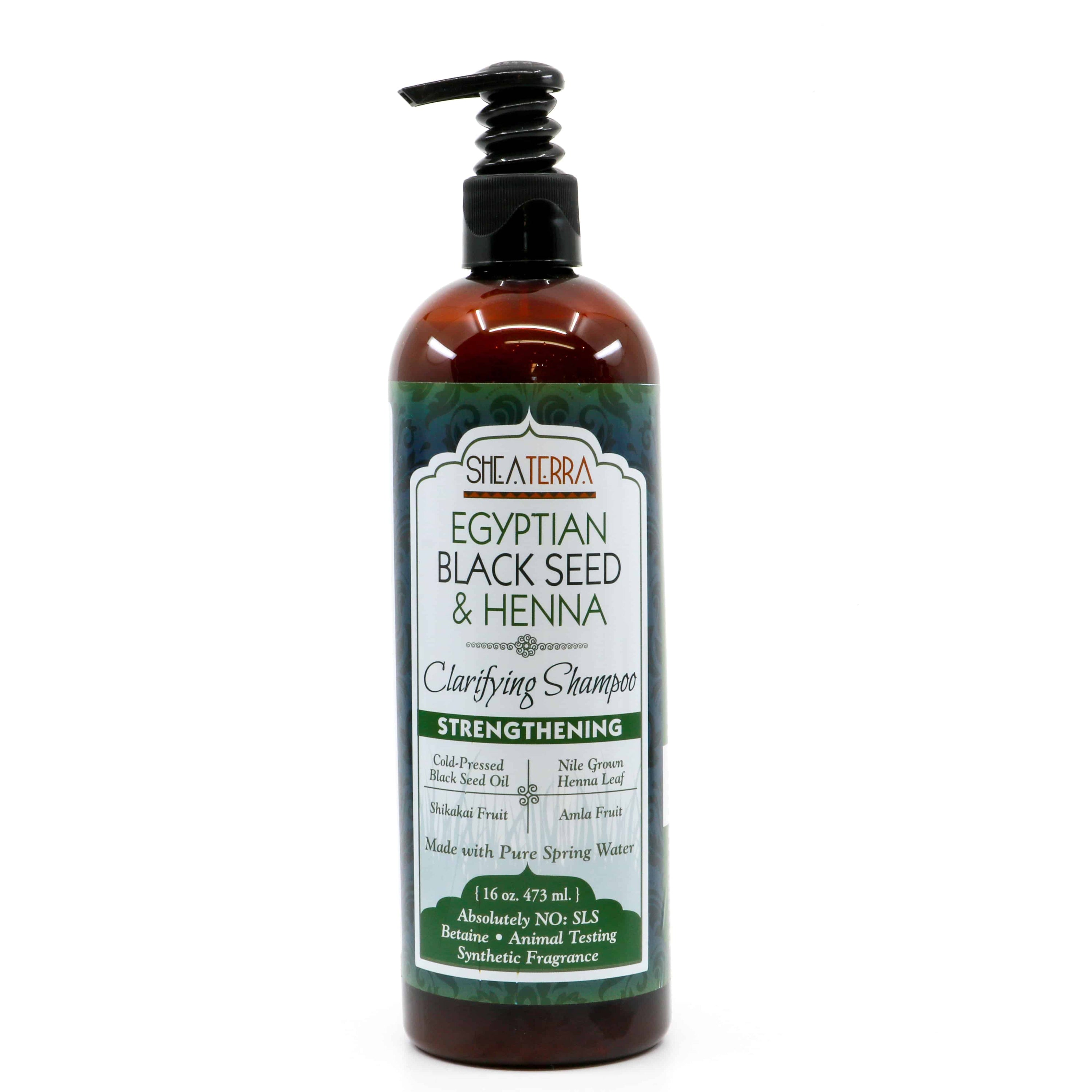 Egyptian Black Seed & Henna Clarifying Shampoo (Strengthening)
Egyptian Black Seed & Henna Natural Shampoo is made with generous amounts of organic black seed oil and genuine Nile grown henna to help strengthen and support hair strands making them stronger and promote hair growth.
Description
Ingredients
Suggested Use
Egyptian Black Seed & Henna Natural Shampoo features:
Egyptian Black Seed Oil helps feed hair vital nutrients
Generous amount of Nile grown Henna is added, rich in a multitude of nutrients. Also, the Nile silt intensifies the mineral content of the henna in comparison to henna grown in other parts of the world.

When mixed with water henna makes the hair colored, however, when we cook the henna into our shampoo it no longer colors the hair. Neutral henna used in many products, is actually not henna at all. It is a completely different plant and does not have the same strengthening properties of real henna.

Generous amount of Sidr Leaf from the jujube desert tree. Sidr leaf adds extra strengthening properties.
Watercress Oil is added, which helps stimulate and condition the hair.
Pure Spring Water is used to ensure our shampoo really is natural and healthier for your hair and family. 
16 oz
Pure spring water, certified organic sunflower oil, certified organic extra virgin olive oil, certified organic virgin coconut oi, coco glucoside (sugar based cleanser), potassium hydroxide (positively charged salts that change oil and water into soap- no lye- no soap), certified organic black seed oil, certified organic vegetable glycerin, mineral salts, Nile grown henna powder, sidr leaf, Nile watercress oil, certified organic ginger essential oil
Apply enough shampoo to hair to get a rich lather. Rinse well. If hair has a lot of styling products or oil in it washing twice might be necessary.

Egyptian Black Seed & Henna Clarifying Shampoo (Strengthening)