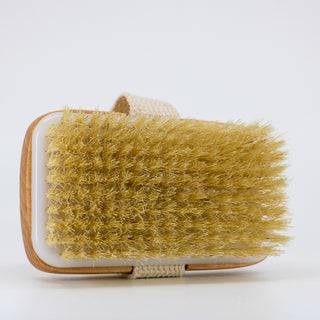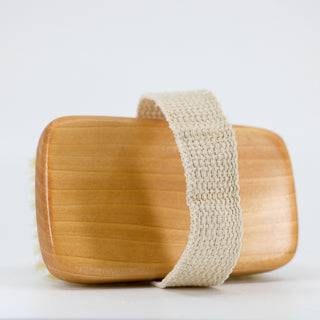 Hand-Held Wet/Dry Boar Bristle Body Brush
The Hand-Held Boar Bristle Wet/Dry Body Brush is ideal for everyday skin exfoliation and massage. Boar bristles are naturally firmer and more durable than synthetic materials, providing the best deep-cleansing action. Enjoy comfortable and hygienic exfoliation with this must-have body care accessory.
The Hand-Held Wet/Dry Boar Bristle Body Brush is made to comfortably fit in your hand to gently exfoliate and soften skin either in the shower or as a pre-shower dry-brush to stimulates the lymphatic system while invigorating your skin. 
Dry brushing can also: 
Improve blood circulation
Rejuvenate nervous system
Exfoliate skin & reduce cellulite
Stimulate lymphatic system
When dry brushing, stroke the entire body lightly but firmly upwards and ALWAYS upwards towards the heart. Most experts recommend dry brushing in the morning, rather than before bed, because of its energizing qualities.
It is made of smooth polished real wood, shaped to fit in your palm for better control and the cotton strap offers comfortable and easy grip.
Hand-Held Wet/Dry Boar Bristle Body Brush