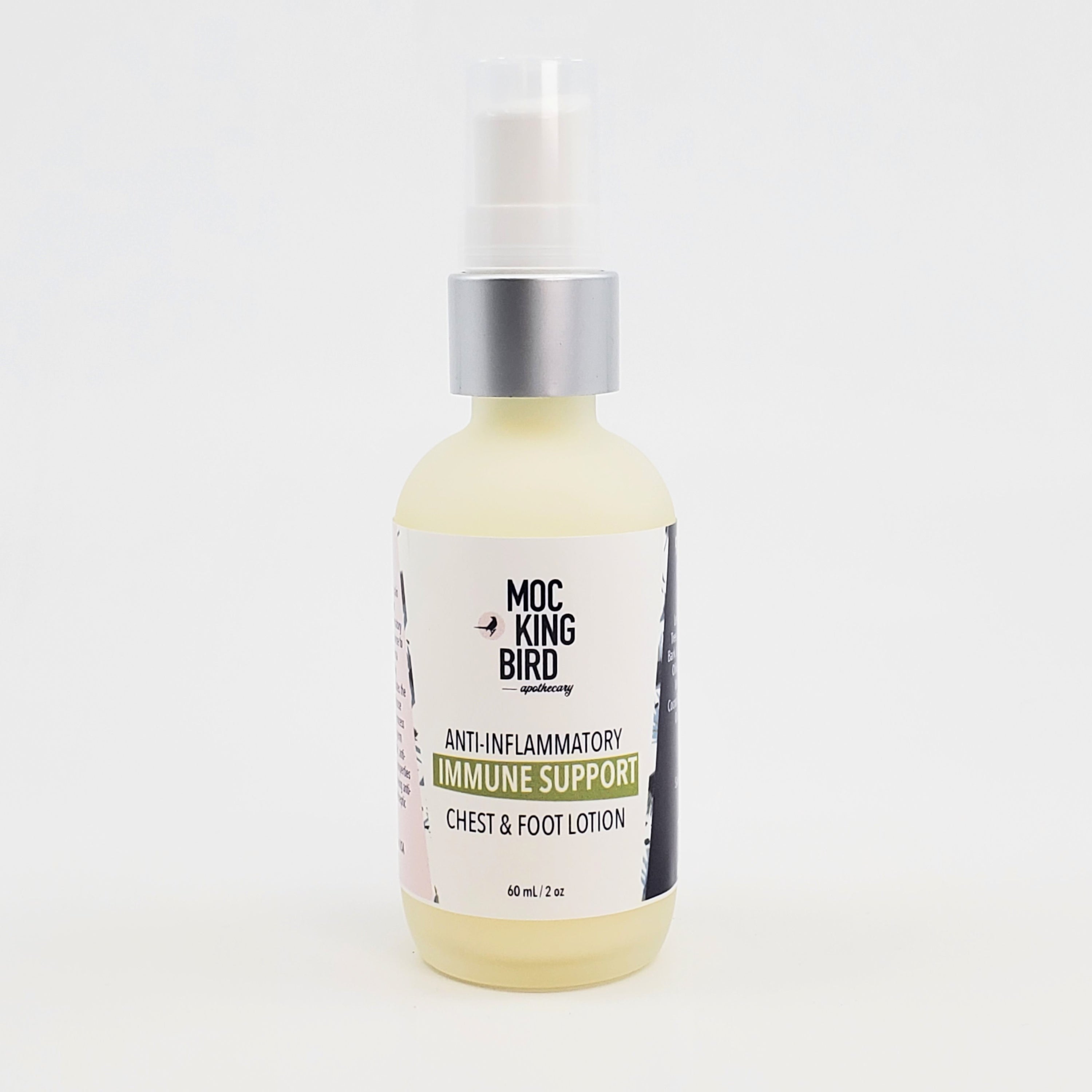 Anti-Inflammatory Immune Support Foot Lotion
The Anti-Inflammatory & Immune Support Foot Lotion is made with pure essential oils and nutrient rich anti-inflammatory ingredients to boost immunity.
Description
Ingredients
Suggested Use
Some of the benefits of the key ingredients in the Anti-Inflammatory Immune Support Foot Lotion are:
Witch Hazel decreases inflammation, pain & excess mucus caused by sore throat
Aloe Vera Leaf Juice slows the inflammatory cascade and reorder the immune response to prevent conditions like asthma & eczema
Frankincense boosts cellular immunity
Tea Tree is an antimicrobial that stimulates the immune system to fight infection & disease
Eucalyptus enhances phagocytosis, a process immune cells use to engulf, or "eat" a germ
Cinnamon Bark has strong anti-parasitic, anti- inflammatory, anti-platelet & antiviral properties
Rosemary supports immunity due to being anti- bacterial, anti-fungal, antioxidant & antiseptic
2 oz 
Pure Essential Oils of Lemon, Frankincense, Tea Tree, Eucalyptus, Cinnamon Bark & Rosemary, Extra Virgin Olive Oil, Witch Hazel, Aloe Vera Leaf Juice, Beeswax, Cocoa Butter, Sunflower Seed Oil, L-Carnitine, Vitamin E Acetate, Leuconostoc
Apply lotion to the bottoms of feet, pulse points or chest every night and increase to 2 -3 times a day at the onset of feeling unwell. Safe to use on babies and toddlers feet.
Anti-Inflammatory Immune Support Foot Lotion