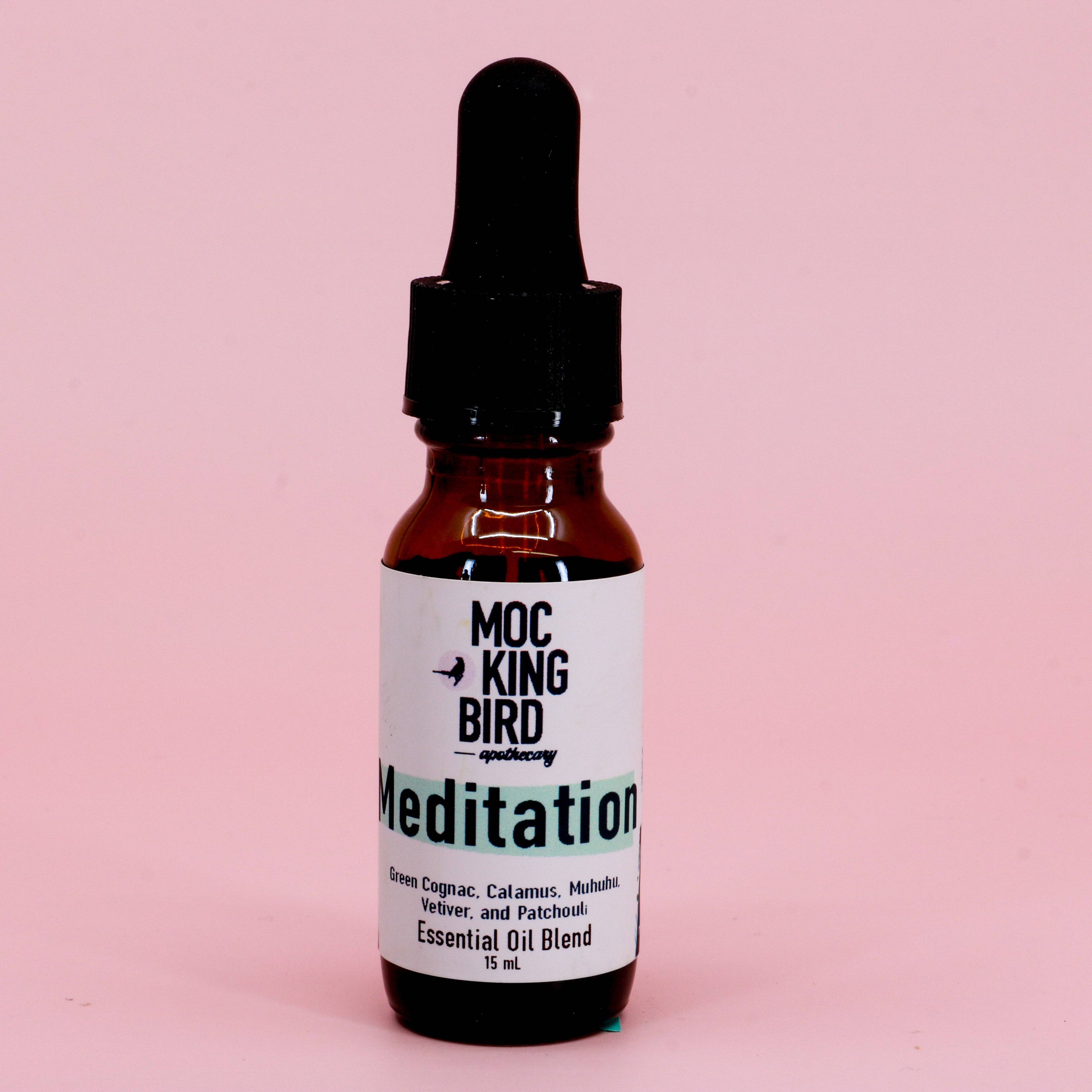 Meditation Essential Oil Blend
Meditation Essential Oil Blend was designed with deep thinkers in mind, aimed to offer a blend that aids in an intense meditation.
Description
Ingredients
Suggested Use
The Meditation Essential Oil Blend has a aroma is rich, deep, woody, and slightly smoky. The oils in this blend were paired to bring an ancient character thought to resemble the tomes of a forgotten castle library or the ashes near an ancient altar. 
This pure, undiluted blend features
Vetiver to calm the mind

Cinnamon for relaxation

Sandalwood to balance feelings

Patchouli to fight depression

Muhuhu (African Sandalwood) for grounding & managing stress

Ylang Ylang for uplifting spirit

Bergamot for relieving anxiety

Green Cognac for its complex aroma with tart, dry brandy-wine like scent
GC/MS Report available upon request.

Mockingbird Apothecary & General Store does not recommend ingestion of essential oils. These statements have not been evaluated by the Food and Drug Administration. Mockingbird Apothecary products are not intended to diagnose, treat, cure, or prevent any disease.
Pure Essential Oil blend of Vetiver, Cinnamon, Sandalwood, Patchouli, Muhuhu (African Sandalwood), Ylang Ylang, Bergamot, Green Cognac.
This essential oil blend can be used in a diffuser or diluted with a carrier oil and used topically. It is important to consult a qualified healthcare practitioner before using any essential oils, especially if you are pregnant or nursing.

When diffusing this essential oil blend, start with 4-6 drops and increase as needed.

To use this essential oil blend topically, dilute with a carrier oil such as jojoba oil or coconut oil at a ratio of 2-3 drops of essential oil per 1 teaspoon of carrier oil. Apply to the desired area and massage in.

If you are using this essential oil blend on children, be sure to use a very low dilution ratio. A general rule of thumb is 1 drop of essential oil per 4 ounces (120 ml) of carrier oil.

As with any essential oil, it is important to do a patch test before using topically. Place a small amount of the diluted essential oil blend on the inside of your elbow and wait 24 hours to see if there is any irritation.
Meditation Essential Oil Blend