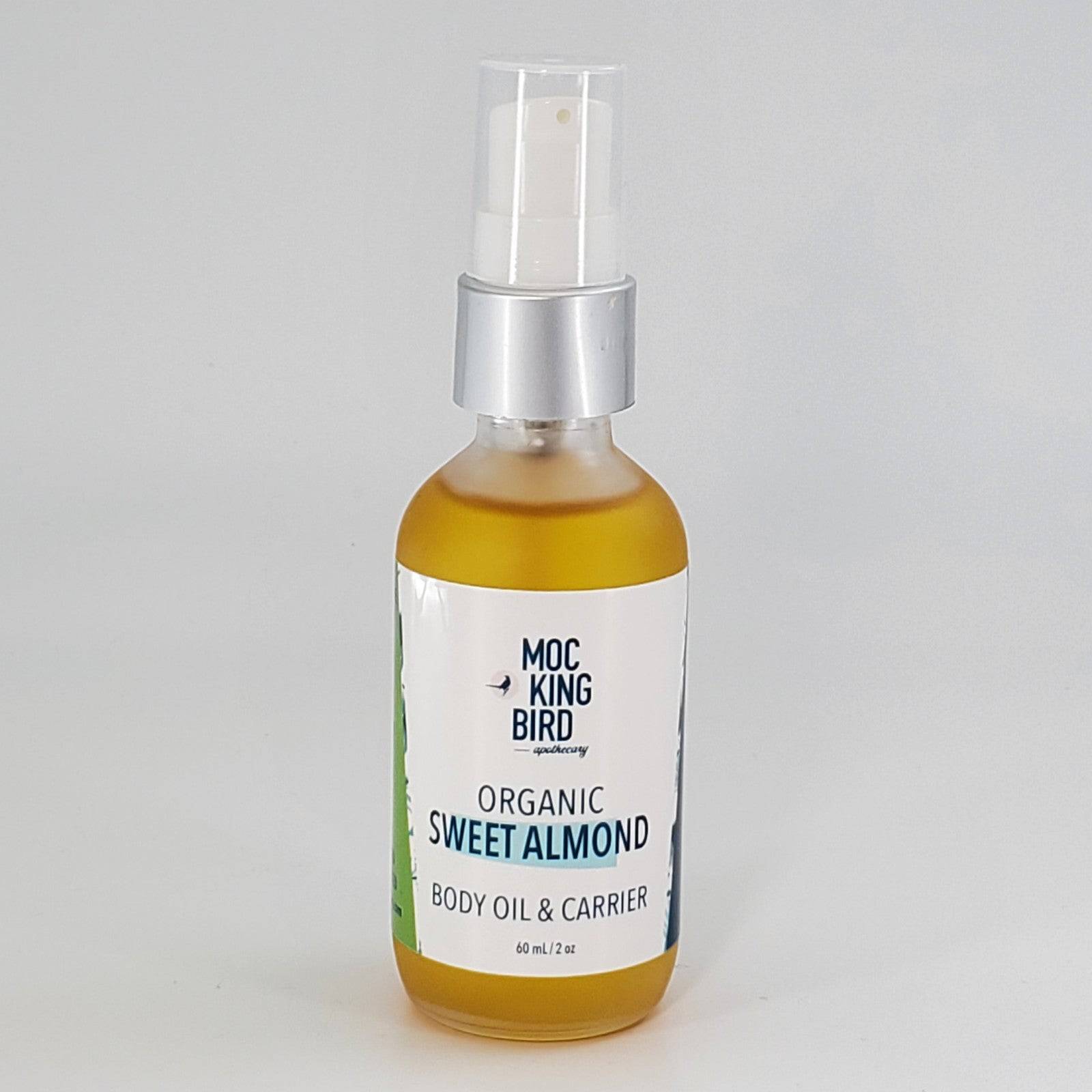 Organic Sweet Almond Oil is the essential oil of sweet almonds that is extracted through an oil distillation process or the oil can also be extracted with an almond kernel press.
This concentrated oil is packed with saturated, monounsaturated, and polyunsaturated fats, the latter two in notably higher levels than the former. 
Almonds contain L-carnitine and phenylalanine, the chemicals that improve cognitive function and enhance mood. The phenylalanine in this quick-absorbing oil is carried through the skin to support the secretion of mood-boosting hormones, including dopamine and adrenaline.
It is a potent oil used for health benefits and body treatments including: 
dry and sun-damaged skin and hair
moisturizing the face
reducing inflammation
premature aging
boosting hair health
lightening the skin
acting as a gentle cleanser
preventing acne
strengthening the nails
helping with hair loss
promoting weight loss
lowering bad cholesterol
protecting the heart
reducing the risk of diabetes
boosting the health of your liver and colon 
This oil is particularly high in:
Vitamin E, supplying over 200% of daily requirement in 100 grams
Also rich in vitamin K and essential B-complex vitamins such as riboflavin, niacin, thiamin, pantothenic acid, vitamin B6, and folate
Has high levels of omega-6 fatty acids which is excellent for strengthening hair from the roots and for supple skin
Sweet almond oil is a rich source of minerals:
calcium
zinc
manganese
phosphorus
magnesium
potassium. 
Certified Organic, Non-Irradiated, GMO Free, Unrefined, Virgin, Cold Pressed, 100% Pure & Undiluted
2 oz glass amber bottle with dropper