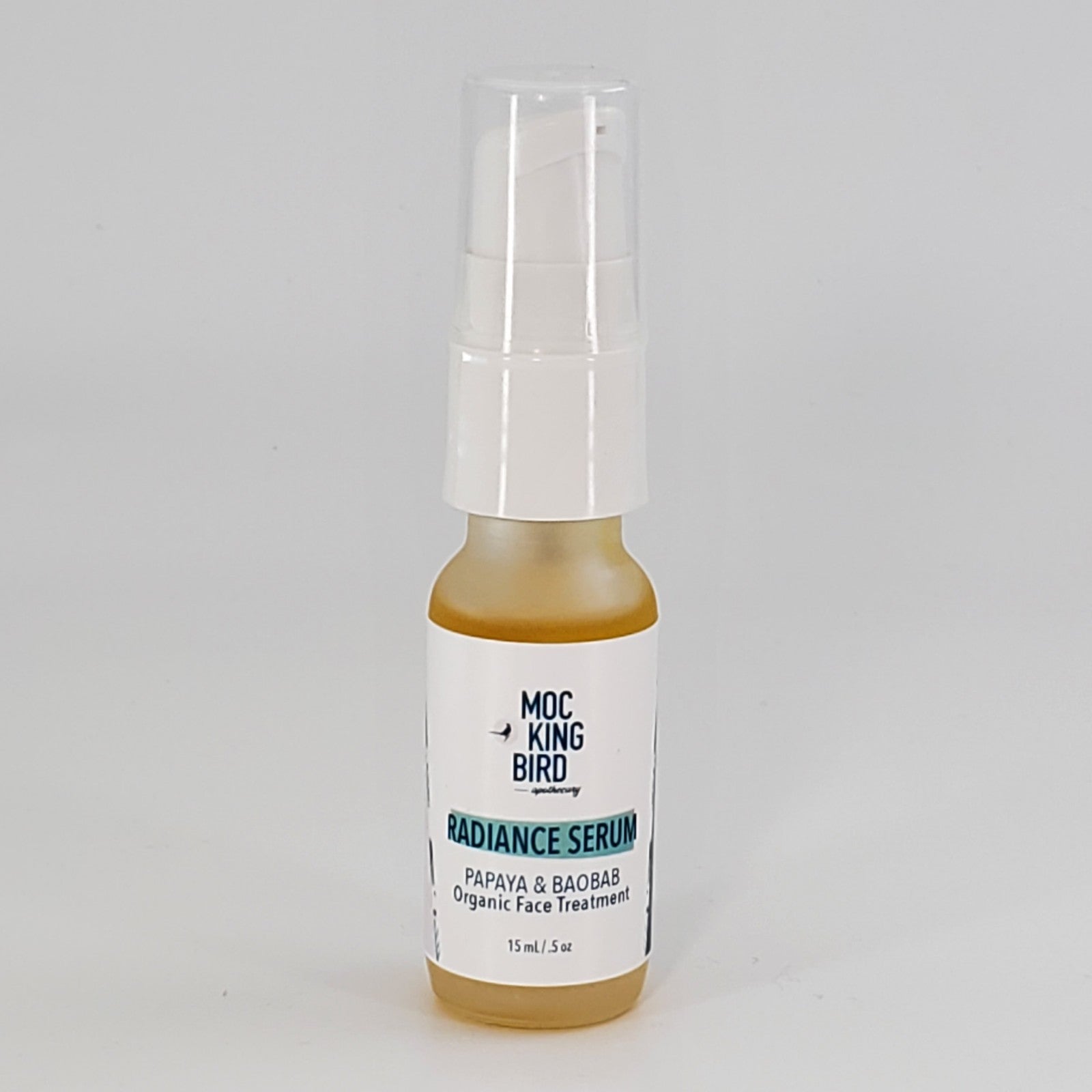 If you're looking for a natural way to achieve radiant, healthy-looking skin, look no further than our Radiance Facial Serum. This refreshing citrusy serum helps to brighten the skin while providing it with antioxidants, vitamins and essential fatty acids that help to keep the skin looking and feeling smooth, hydrated and healthy.
Description
Ingredients
Suggested Use
Simply apply a few drops of this quick absorbing non-greasy Radiance Facial Serum to clean, dry skin morning and night to help boost skin's natural radiance working towards lightening skin spots and the effects of hyperpigmentation.
The hardworking nutrient rich ingredients in this serum are:
Baobab oil works wonders on all types of skin, loaded with free-radical fighting antioxidants, vitamins A & E, and omega fatty acids to protect and nourish skin.
Camellia Seed oil, extracted from antioxidant-rich green tea seeds which naturally contains vitamin E and squalene, as well as oleic and linoleic fatty acids similar to what our skin naturally produces to help keep it supple and hydrated. 
Papaya Seed oil contains vitamins A, C, and E, the powerful compounds that work to lighten scars and hyperpigmentation. Papaya seed oil  also contains high amounts of the unique enzyme papain, which is revered for its exfoliating properties as well as it breaks down dead cells, hardened oils and grime within pores, revealing fresh, youthful skin.
Pink Grapefruit, Lemon & Orange essential oils that together help to tone the skin while reducing oily build up and shrinking large pores.
15 ml
Organic Cold-Pressed Baobab Oil, Wild Harvested Cold Pressed Camellia Seed Oil, Cold Pressed Papaya Seed Oil, GMO-Free Vitamin E Oil, Essential Oils of Pink Grapefruit, Lemon & Orange.
For and intensive treatment use 2-3 drops of serum directly on your freshly washed face or add the same in the palm of your hand with your daily moisturizer.

Discontinue use if irritation occurs. Avoid contact with eyes mucous membranes.