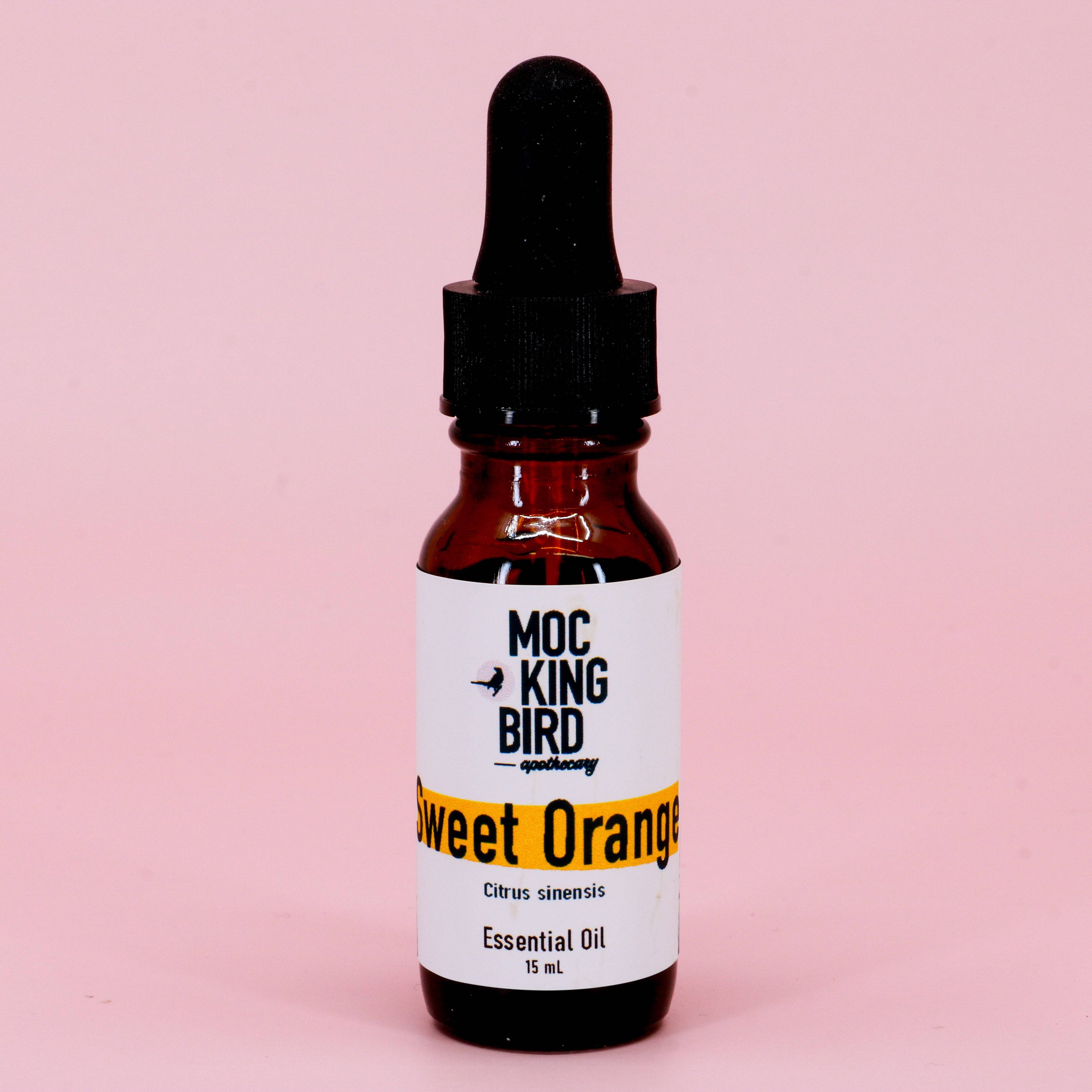 Sweet Orange Essential Oil (Citrus sinensis)
Sweet Orange essential oil is a tonic for the nervous system and counters depression, banishing feelings of sadness. It has historically been used to calm the digestive problems and eliminate toxins while also stimulating circulation.
Description
Ingredients
Suggested Use
When used in skin care it is a balancing oil for dry and dehydrated skin and works to restore broken capillaries and encourage radiant skin.

GC/MS Report available upon request.

Mockingbird Apothecary & General Store does not recommend ingestion of essential oils. These statements have not been evaluated by the Food and Drug Administration. Mockingbird Apothecary products are not intended to diagnose, treat, cure, or prevent any disease.
This essential oil can be used in a diffuser or diluted with a carrier oil and used topically. It is important to consult a qualified healthcare practitioner before using any essential oils, especially if you are pregnant or nursing.

When diffusing this essential oil blend, start with 4-6 and increase as needed.

To use this essential oil blend topically, dilute with a carrier oil such as jojoba oil or coconut oil at a ratio of 2-3 drops of essential oil per 1 teaspoon of carrier oil. Apply to the desired area and massage in.

If you are using this essential oil blend on children, be sure to use a very low dilution ratio. A general rule of thumb is 1 drop of essential oil per 4 ounces (120 ml) of carrier oil.

As with any essential oil, it is important to do a patch test before using topically. Place a small amount of the diluted essential oil blend on the inside of your elbow and wait 24 hours to see if there is any irritation.

If you are pregnant or nursing, be sure to consult a qualified healthcare practitioner before using essential oils.

Essential oils are potent plant extracts and should be used with caution. Store in a cool, dark place away from children and pets.

Do not take essential oils internally unless you are working with a qualified healthcare practitioner.
Sweet Orange Essential Oil (Citrus sinensis)