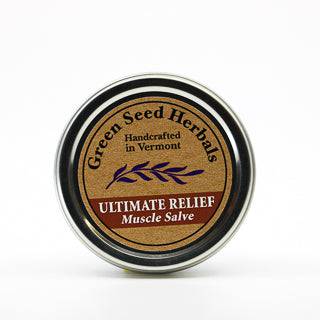 Ultimate Relief Muscle Salve
The Ultimate Relief Muscle Salve is used for joint inflammation, sprains, strains, muscle soreness, swelling, bruising, varicose veins, arthritic discomfort, and neuralgia,
Description
Ingredients
Suggested Use
The Ultimate Relief Muscle Salve packed with nutrient rich ingredients.
2 oz 
Wildcrafted Arnica, Wildcrafted St. John's Wort, Organic Comfrey, Organic Ginger, Organic Cayenne, Organic Rosemary, Witch Hazel Extract, Birch Essential Oil from the Adirondack Mountains, Castor and Organic Olive Oil, Vitamin E & Raw Vermont Beeswax.
Use as often as needed to relieve muscle aches.
Ultimate Relief Muscle Salve