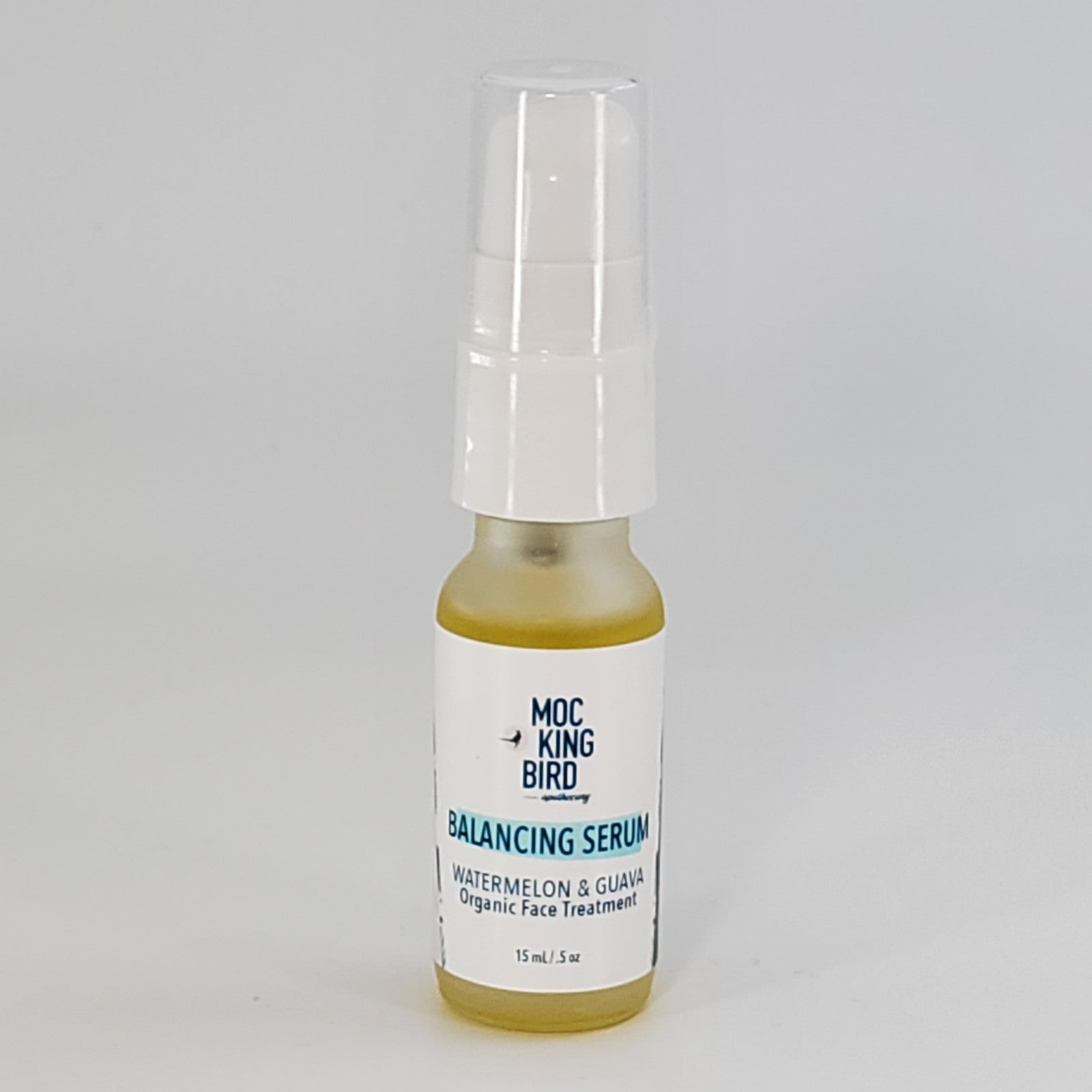 Watermelon Seed Balancing Facial Serum
Discover the perfect balancing act with our Watermelon Seed Balancing Facial Serum. Infused with powerful natural ingredients, this serum works to nourish combination skin for a more hydrated and healthier looking complexion. Enjoy improved tone and texture while protecting your skin from damage as you bask in the beautiful results!
Description
Ingredients
Suggested Use
Experience ideal harmony with our Watermelon Seed Balancing Facial Serum. Loaded with powerful natural elements, this serum nurtures combination skin for a hydrated and glowing look. Expect a better texture and tone while your skin is protected from harm, and marvel at the gorgeous effects!
The hard working ingredients in the Balancing Facial Serum are: 

Guava Seed oil is naturally high in 

linoleic fatty acid that 

reduces pore size, tones and tightens skin

Watermelon Seed oil is antioxidant-rich, anti-inflammatory and contains

vitamins A, B, and E. It fight wrinkles and fine lines, protect skin from the adverse effects of oxidative stress, including photo-aging and heals irritated skin

Camellia Seed oil, extracted from antioxidant-rich green tea seeds improves the texture and appearance of skin
Lemon Essential oil helps reduce excessive oil production in the skin
Geranium Essential oil regulates skin's sebum production 
15 ml 
Highest grade Virgin Organic Watermelon Seed Oil, Unrefined Virgin Guava Seed Oil, Wild Harvested Cold Pressed Camellia Seed Oil, GMO-Free Vitamin E, Pure Lemon & Geranium Essential Oils.
For an intensive treatment use 2-3 drops of the balancing facial serum directly on your freshly washed face or add the same in the palm of your hand with your daily moisturizer. Discontinue use if irritation occurs. Avoid contact with eyes mucous membranes.
Watermelon Seed Balancing Facial Serum